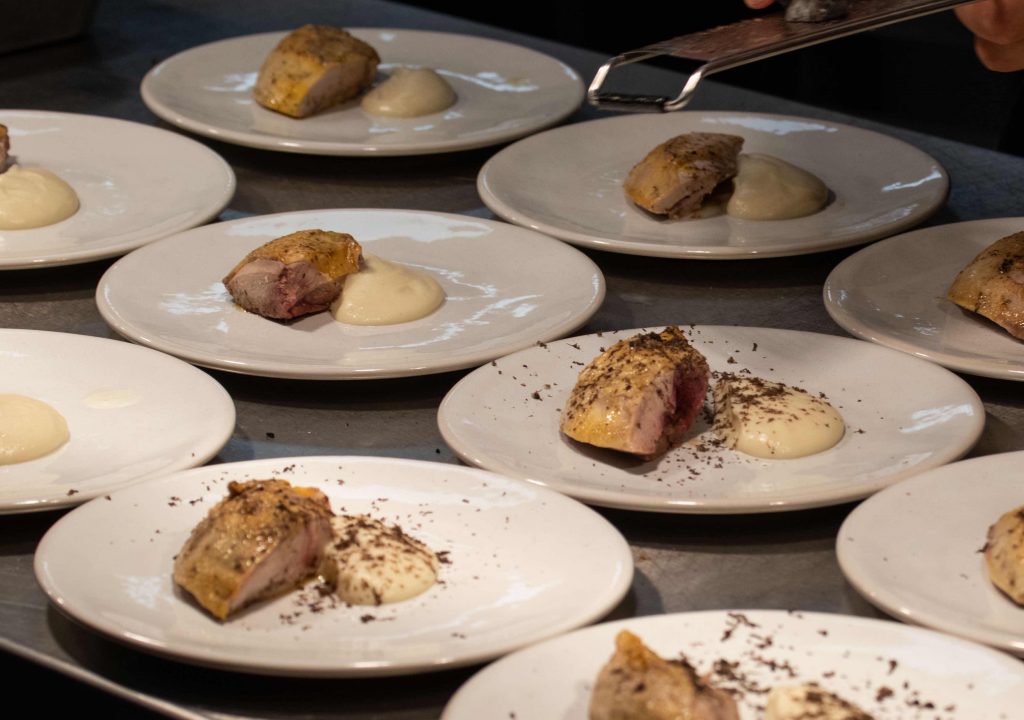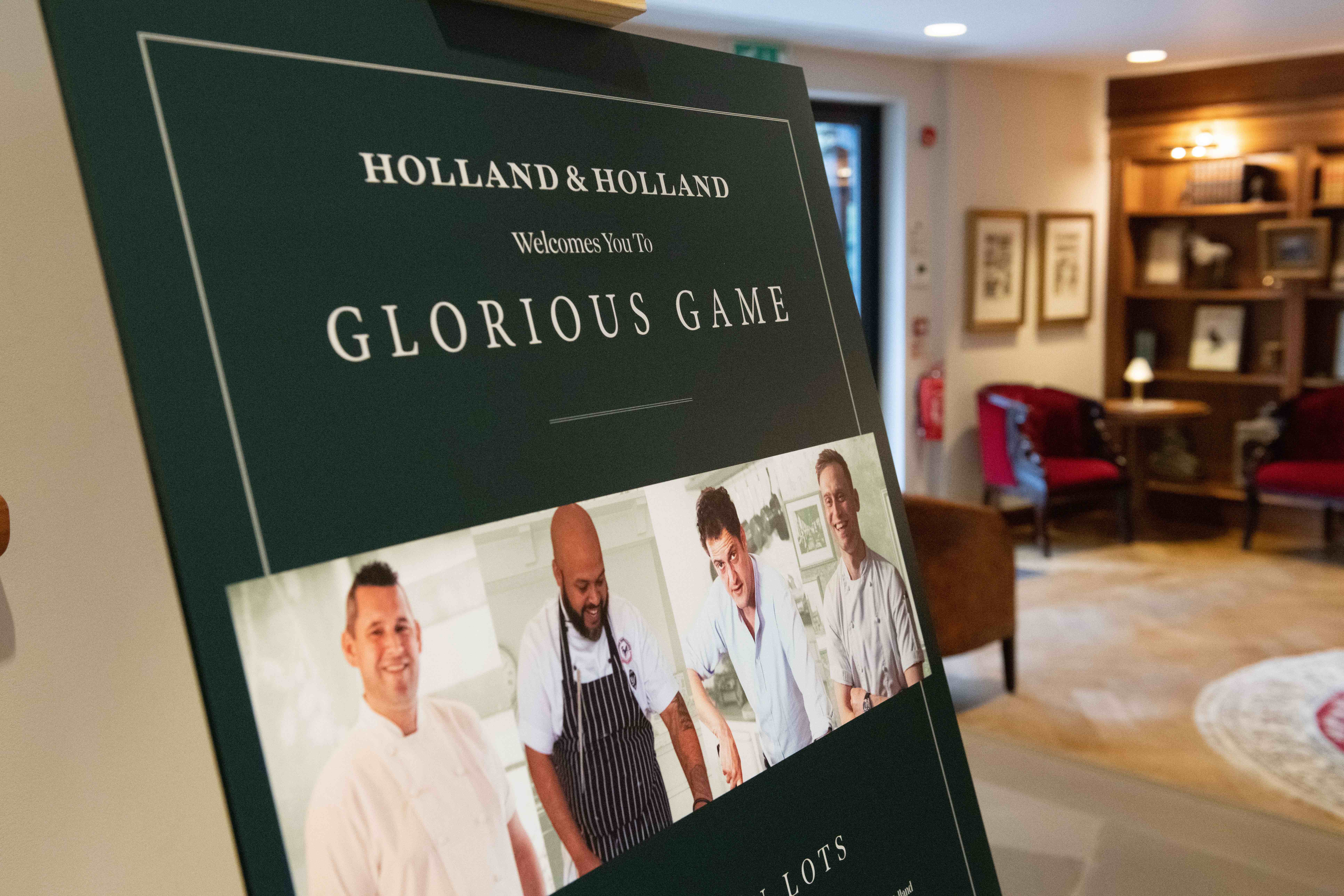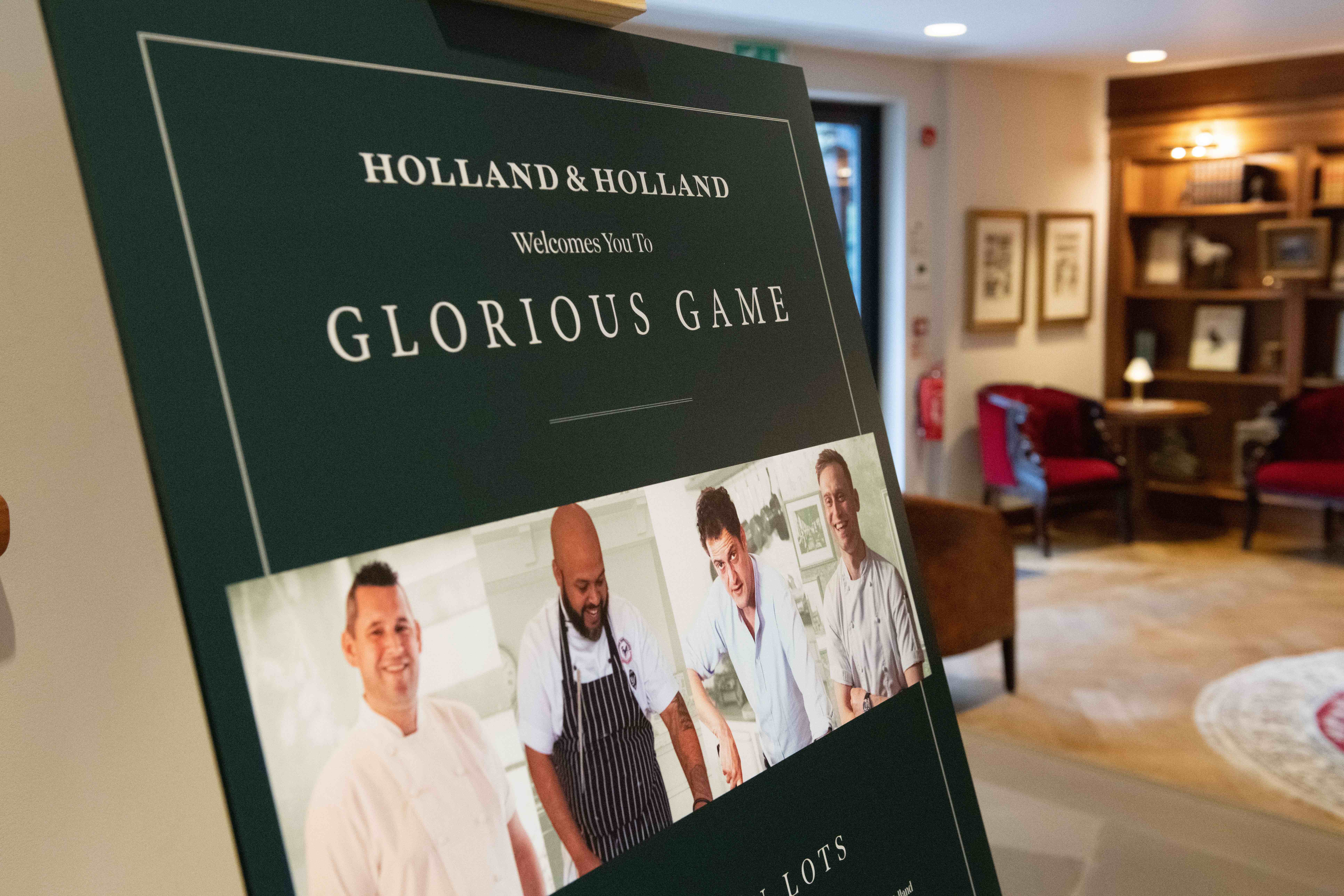 Building on the resounding success of the 2022 event, Glorious Game returns for a second year with an enhanced format to enthrall shooting and fine-dining enthusiasts alike.  
This celebration of game, gastronomy and shooting, once again brings the talents of Holland & Holland's Executive Chef Joshua Hunter to the fore. This year he is joined by the extraordinary skills and culinary prowess of Mark Kempson (Kitchen  W8) and Lisa Goodwin-Allen (Northcote) both holders of Michelin Stars.  
After a light breakfast on arrival, guests will receive a briefing from Head of Instruction,  the legendary Chris Bird, before heading out in the grounds for a Holland & Holland  'Royal Flush' shooting experience. This exciting new format will emulate various game birds across five stands, with various prizes available, not just for the team with the highest score. Both novice and experienced shots are welcome, with or without their own shotgun. 
To honour the traditional format of a driven game day, 'Elevenses' will be served,  with Eat Wild providing some delicious and creative ways to serve game-based light bites and smaller dishes. Luscombe will be showcasing their delicious range of soft drinks, to ensure shooting guests remain hydrated and trigger fingers stay sharp.  
Once shooting has concluded guests will be welcomed back to the lodge with a  selection of delightfully British sparkling wines from event partners Exton Park and a warming tipple of sloe gin from our friends at Foxdentons. 
An exquisite tasting menu will be served in banquet style by your three chefs, who have created a memorable menu, celebrating game and seasonal, British produce.  Craig Bancroft Managing Director of Northcote will be choosing some wonderful wines alongside our very own Sean Arthur and between them, they will showcase some fascinating wine pairings that will demonstrate classical pairings and some more unusual and pleasantly unexpected surprises. 
This year's event promises to be an indulgent, fun-filled celebration of our countryside and sporting traditions.
Proposed Schedule: 
9am Registration & Breakfast 
9:45am Briefing with Chris Bird 
10am First Shot 
11am Elevenses 
11:45 Shooting to Recommence 
1:15-1:30pm Arrive back at The Lodge 
1:30-2pm Aperitif in the Conservatory Bar 
1:45 Call to luncheon 
2pm Introduction to the feast and wines by the Chefs and sommeliers 2pm – 5pm Luncheon 
6pm Carriages 
Ticket Prices: 
Individual Shooting Guest: £300 inc VAT 
Team of Four: £1100 inc VAT 
Booking at: www.hollandandholland.com/events 
About Holland & Holland: 
The prestigious Holland & Holland Shooting Grounds are set in 120 acres of beautiful,  open countryside on the outskirts of London. We have excelled at providing world-class  shooting tuition for over a century and remain the premier destination for all aspects of shotgun and rifle instruction in England. 
Our Lodge offers a variety of hospitality options with our, relaxed conservatory lounge and bar, fine-dining restaurant and stunning terrace overlooking the grounds.  Michelin trained Executive Chef, Joshua Hunter excels in showcasing the finest British seasonal produce menus, which can be enjoyed in our exquisite restaurant and lounge.