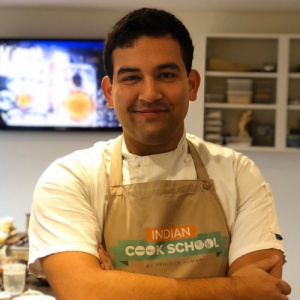 Please could you tell us a little bit about your background and how you became the chef you are today?
I've always been interested in food, and my parents realised the easiest way to sate my appetite was to get me cooking! We're a pretty food obsessed family, and making new dishes was always encouraged – and I even went on a super outdoor cookery school when I was 14. Professionally, I started at the bottom in what was then a newly opened restaurant in Oxford (called the Oxford Kitchen – now Two One Five) during my gap year, working my way from comis chef (peeling and prepping vegetables), up to chef de partie in my own right, manning the larder section. I learnt a huge amount from all the chefs there, especially focusing on butchery, fish prep and sauces.
I returned to work at the restaurant every summer whilst I was at university in London studying Biochemistry, and then made the decision whilst completing my dissertation to transition to private chef work. I ran classes, supperclubs and dinners in London for the next few years before moving to Perth, Scotland and continuing with the same! Moving to rural Scotland has really enabled me to explore more wild ingredients – foraged mushrooms, wild garlic and game, of course!
Can you remember what the first game dish you ever cooked was?
Pheasant ballotine with chanterelles, dauphinois and a game sauce. This was my first time cooking pheasant, and one of my first experiences using a sous-vide which is an absolute game-changer in the restaurant, as well as when it comes to preparing game in advance!
We were delivered plucked, oven ready pheasant by the game dealer. We would take the pheasant breasts off the crown with all the skin intact, and roll the two breasts around a farce made from chicken livers, chanterelle trimmings and herbs. We'd wrap them into tight cylinders, vacuum seal and gently cook in a water bath before service. They could then be kept in the fridge, just needing unwrapped and sealed in a pan to warm through and crisp the skin. I think we used the legs to make a stock for the sauce, whereas I would now confit them for a croquette or similar. This dish was just amazing! It made for juicy, tender pheasant and was very popular during the season.
What do you think is the biggest challenge when cooking game?
Overcoming the memories of dry, tough or stringy pheasant that people have had before, and associate with the name. I find with friends it is easiest sometimes to not tell them what it is until they've already started eating and enjoying it – as long as I've ensured its super juicy and tender! As I mostly supply my own game, I'm fully in control of how long it hangs, and the trimming that's done to ensure all the bloodmeat is removed, and trimmed of fat/sinew as appropriate. Once you've done all that, it's easy to make pheasant or partridge taste just like full bodied chicken – which works perfectly with the Indian flavours I often use.
What is your favourite game bird to cook and how do you like to cook it?
Pheasant really is so versatile, and the yield from each bird is just super. I rarely roast them whole, as it's impossible to cook the legs and breasts perfectly at the same time! So more often than not, I will remove the breasts (either skinned, which is nice and lean, or on the crown) and legs (I always skin these for ease) and cook them separately. The breasts are perfect for tandoori marinades and grilling (I'm very lucky to have a tandoor – but my electric grill also does a great job), or flatting out to make schnitzel.
I'll take the mini-fillets and use them for Crispy Fried Pheasant, removing the sinew of course. The legs I vacuum seal, and cook in a water bath for 12-24 hours until the meat is tender – you then have to carefully shred it from all the bones and sinew, but the resulting confit leg meat is amazing for rillette, terrine, pate, croquettes….or anything that you'd use shredded chicken for! Just delicious. 
And the worst?
I've yet to come across a game bird that I didn't like – I'm a firm believer that they can all be wonderful, if you just cook them carefully! That said, Wild Goose can be challenging depending on what the geese have fed on, as can some wild ducks, like Shovellers.
Which chefs inspire and influence you? (don't have to be game related)
I've always admired Simon Rogan, of L'Enclume and others – still holding out for a stage (kitchen work placement) there one day! He has an amazing vision for restaurants that are so much more than just a kitchen – growing a lot of their own veg, working with local farmers, and making delicious food to boot!
Tom Kitchen, Nathan Outlaw and other ingredient-focused chefs also inspire me hugely – it's the respect for good quality, locally sourced ingredients that makes their dishes stand out above the rest. For understanding the science behind cooking, J. Kenji Lopez-Alt has done amazing work using pop-science style writing to encourage chefs of all abilities to question why we do things in recipes. 
Top 3 tips for cooking game?
Either cook it hot and fast, or low and slow, nothing in between – you want it to be juicy (and pink!) or tender and shreddable. 

Mincers are vital – they turn slightly damaged breasts into beautiful mince for sausages, Indian

keema

or Chinese dumplings!

Salt is (even more) crucial – plain, unseasoned game can taste bitter or High. Seasoning well lets us taste the earthy, robust flavours without these unwanted tastes.
How do you encourage people to eat game in your restaurants?
For my seasonal supperclubs, I don't push the option. I just include it in every menu, in a very normal fashion. It's far harder for someone to ask for it to be substituted for something else, than it is for them to reject it when you offer game as an option! Besides, once they've tasted it (and I often bring along my Confit Pheasant Leg Rillette to try!) it's always asked for in future!
For newcomers to game, I often use Indian dishes as a good foil for the slightly stronger flavours of venison and pheasant – amazingly, these strong flavours are much more comparable to the farmyard chickens and old goats that are used across India for authentic curries, and my dad always says they are better than the milder reared chicken/lamb that we have in the UK.
Surprising ingredients that compliment game?
Coffee and Dark Chocolate! Rich, earthy, slightly fruity – the perfect companion to slow braised venison or pheasant. Add some Mexican chiles and spices for a traditional Mole sauce, or just stick to a good tablespoon of instant coffee/cocoa powder in your next pheasant casserole. You won't notice the flavours, but they add a wonderful body to the sauce.
Favourite tipple with a pheasant?
I make industrial quantities of Plum Vodka each year – often 15L at a go – which is my go-to drink throughout the year. I try and ensure it's not too sickly sweet or syrupy – I like it a lot drier, and crisp. Lovely chilled on it's own, or mixed with fizz for a different take on a Sloegasm. For Indian dishes, I'll stick to any of the brilliant local Scottish beers we have on our doorstep – Schiehallion Lager, by the Harviestoun brewery, is particularly good. 
Any advice for young budding chefs?
Don't be afraid to ask senior chefs for work or help. We're always looking for keen pairs of hands that are willing to get stuck in, and often times get messy. We've all been in the same spot as you, and know how tricky breaking into professional cooking can be – so we'll be happy to help.