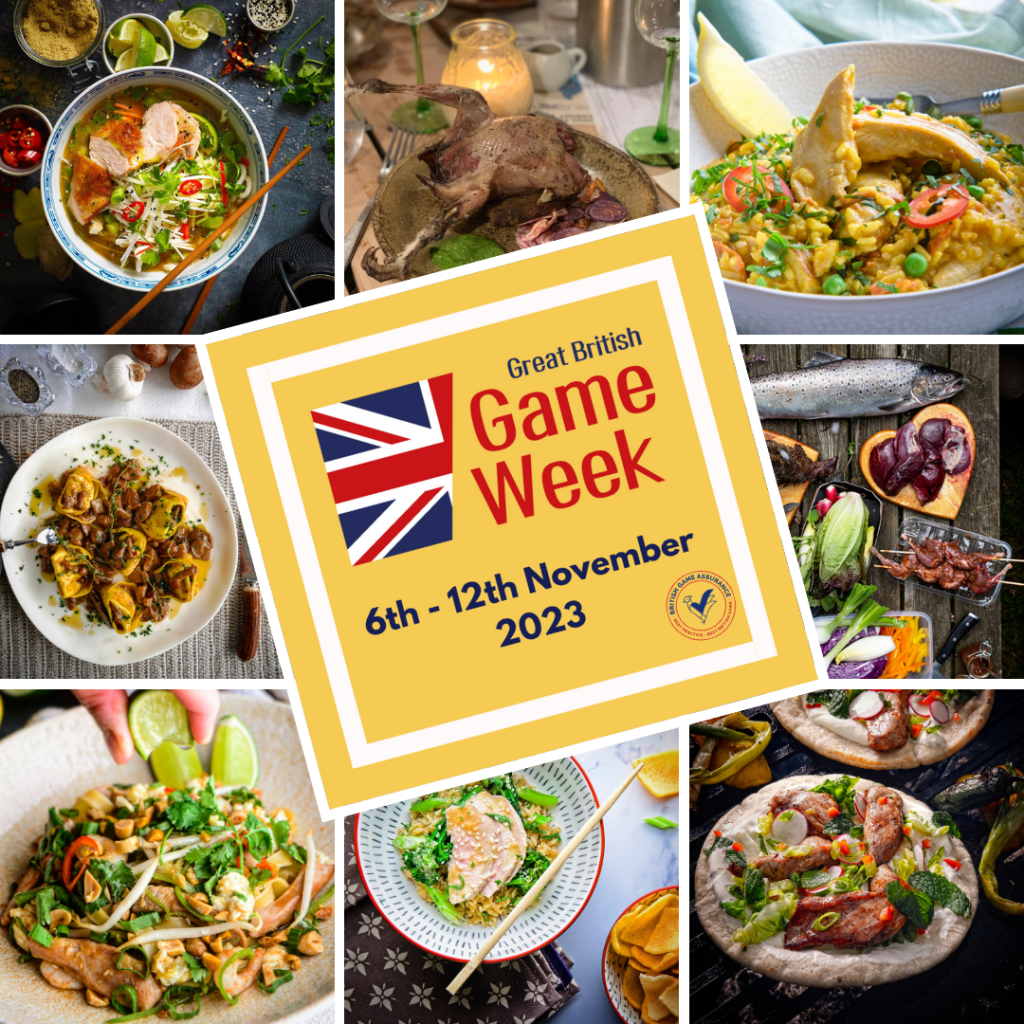 Eat Wild is delighted to announce new dates for the annual #GreatBritishGameWeek celebration – 6th-12th November 2023 – and is asking everyone to save the date.
Great British Game Week is a celebration of wild meat, promoted by Eat Wild in partnership with the Eat Game initiative.
Now in its seventh year running, the week-long promotion will be a focus for events, dinners, and special offers promoting game to consumers right across the UK. People will be encouraged to taste game for the first time and to try new game products.
EatWild champions the tasty versatility of game, encouraging people to explore new and different ways of cooking game, with enticing recipes ranging across a plethora of cuisines, from Korean Fried Pheasant, Persian Saffron Yoghurt & Pheasant Kebabs, Partridge and Chorizo Paella, Venison Chili Con Carne and Tacos, Moroccan Pheasant Tagine, Teriyaki Mallard Stir Fry with Noodles and much more.   
Eat Wild are asking everyone to save the date, not only to get behind the celebration but to introduce new people to all that is great about local British wild meat and build on the success of previous years' celebrations in reaching new audiences.
Last year, Eat Wild took a modern approach towards promoting game, teaming up with "foodie influencers" on social media and sending them different game products from the EatWild shop to try. These 'influencers', many of which were from outside the traditional game community, had a combined following of 464, 136 people. Eat Wild drew these collaborations offline too, hosting in person events and dinners across the UK to introduce more people to game. 
Louisa Clutterbuck, CEO at Eat Wild said
"We are delighted to announce this years' dates for Great British Game Week. Last year, we reached a huge, brand-new audience at various nationwide events and on social media too; on the EatWild account alone, 37.1K accounts were reached, 32K of which were non-followers, throughout the lead up and during Game Week. We can't wait to build on that this year and reach even more people. Our mission for the week is always not only to encourage more people to taste game for the first time, but to educate them about the multiple benefits of eating it and make cooking with it an accessible joy. This year, we're expecting a fantastic array of establishments to get involved and we can't wait to celebrate all things British wild meat with restaurants, pubs, and consumers across the country, so save the date!"
To receive the refreshed logo and branding for this year or for more information on Great British Game Week please contact Louisa at info@eatwild.co