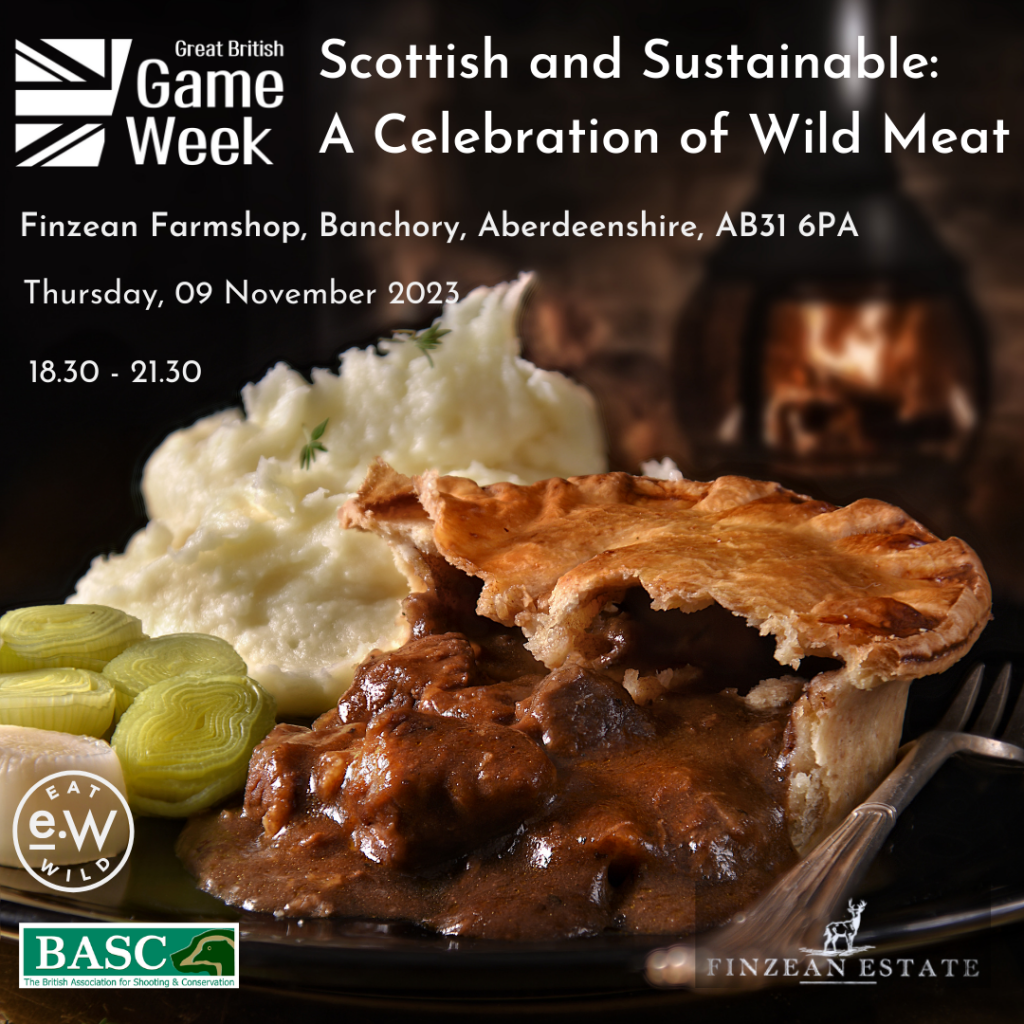 Eat Wild is delighted to announce a dinner in celebration of wild, Scottish meat as part of the annual #GreatBritishGameWeek, 6th-12th November 2023. Taking place in Aberdeenshire, Scotland, at Finzean Farmshop on Thursday 9th November, in partnership with the British Association for Shooting & Conservation (BASC), the event aims to introduce even more new people to the merits of local, wild meat with the help of passionate Head Chef, Sanjay Bhattacharya. 
Great British Game Week is a celebration of enjoying wild game, promoted by Eat Wild, the development board for wild and sustainable meat. The week-long promotion will be a focus for events, dinners and special offers promoting game to consumers around the country. People will be encouraged to taste game for the first time and try new game products such as pies, sausages, burgers, and charcuterie.  
This year, Finzean Farmshop, a locally renowned shop that harvests, butchers, and sells wild meat directly from the estate, will partner with Eat Wild and BASC to host a dinner in celebration of Game Week. 'Scottish and Sustainable: A Celebration of Wild Meat' will use locally, sustainably sourced ingredients for the following menu:
Menu
Canapes
Peppered Venison with Horseradish on Rye Crisp Game Rillette with Homemade Pickles on Oatcakes,
Confit Pheasant Croquette with Green Tomato Ketchup
Starter
Warm Finzean Pheasant and Leek Salad, Blue Cheese, and Salsa Verde
Main
Finzean Venison Pies, Champ, Red Wine Gravy, Seasonal Veg
or a Gluten Free Venison Casserole
Pudding
Sticky Date and Toffee Pudding, and Homemade Whisky Ice Cream
At £50 / head with drinks available on the night, tickets for the event can be purchased after 10th October here: Finzean Estate.
Louisa Clutterbuck, CEO at Eat Wild said,
"We are thrilled to be hosting this event at Finzean Farmshop for a second year running, in celebration of Game Week and more specifically of local, wild meat. This year, we are especially delighted to be partnering with BASC. Their support means we will be able to reach and introduce even more new people to the merits of wild meat."
Sanjay Bhattacharya, Head Chef at Finzean Farmshop, said
"Finzean is delighted to host this Celebration of Wild Meat with Eat Wild and BASC as part of Great British Game Week 2023. We are proud to be a working estate where all our game is processed and sold directly to the local community through our Farm Shop, giving them access to sustainable, healthy wild meat with zero food miles. This event is a fantastic opportunity to celebrate all the wonderful ingredients we have around us, and the people who so passionately bring them to the table."
Peter Clark, BASC Scotland Director said:
"Great British Game Week is a fantastic opportunity to showcase the very best of British and more locally, Scottish game. As we well know, game meat is not only delicious, but it is nutritious, lean, and a brilliant source of protein. I encourage everyone to show their support for Great Brtish Game Week wherever they can, for example by buying game from your local game dealer or attending one of the many events throughout the UK, such as this one at Finzean Farmshop."